Dongfang koi farm is one of the biggest and most influential koi farm in China.
Koi farm base is headquarterd in Suzhou with an area of 70 acres of mud pond. There are many holding ponds, include 96 of 40-ton ponds.
We spawn about 20 million koi fish fry each year.Specialise in breeding kohaku、showa、sanke、goshiki、shusui、shiro utsuri、kigoi、ogon、kujaku、asagi and chagoi.
KOI CARP : Dongfang koi farm in China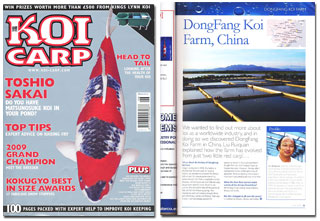 "Liu Ruiquan, age 53, is the Manager and Chairman of Dongfang koi farm in China......
My factory is situated near the river, and for security reasons, we decided to surround the factory with a moat. On one occasion one of workers bought to red carp, not willing to eat them, put them into the moat, this resulted in tens of thousands of little red fish......
However, the day after I transported the koi to Shanghai they all spawned! What an exciting time it was! I have been fascinated by koi ever since then......."
CCTV-2 : Interview of Mr. Liu Ruiquan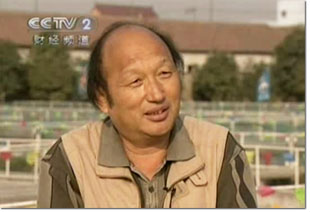 "With the upgrading of the quality of the life of citizens, Koi starts to enter more and more families and venues. Breeding Koi is a kind of elegant culture. It is gradually rising from south to north In China. More and more people are joining in. Providing a solid platform for the dealers and effectively serving for the keepers is our philosophy......"